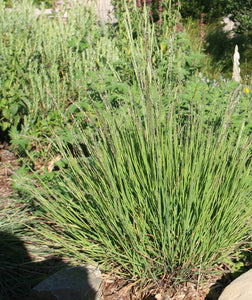 Melica californica, CA Melic Grass
California melic grass is one of the smaller native bunchgrasses, with an upright growth habit, growing from 1-2' tall and about 8" wide, with an interesting inflorescence, purple-banded green spikelets that, in a mass, make an interesting design statement. As the seed ripens, the stalks turn silver and are very distinctive, resembling a cereal. Large seeds slide easily off the flower stalks.
It's an adaptable grass, found in California and Oregon from the mountains to the coastal prairies and even on serpentine soil. CA Melic grass blooms in late spring. When watered occasionally through the summer, our initial planting bloomed and set a whole new seed-crop in September.