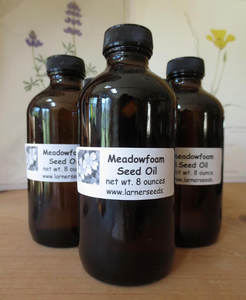 Meadowfoam Seed Oil
Our Meadowfoam Moisturizing Oil is an exciting product from the seeds of one of our favorite western wildflowers. Meadowfoam (Limnanthes sp.) is a garden favorite beloved by bees and a strong reseeder. 
Cold-pressed, this luscious seed oil is becoming increasingly well-known and sought after for its properties of stability and moisturization in cosmetic products. Unusually stable, this pure golden oil extends the shelf life of other oil mixtures. We have been amazed at how it thoroughly eliminates the drying effects of bathing, sunning, & living. For silky smooth skin, we highly recommend it as a bathing oil or mixed with some sweet almond oil and some of our favorite essential oils, including ylang ylang, lavender, and rosa absolut.
Sold in 8 oz. bottles.