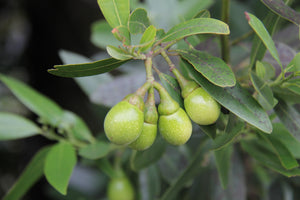 Umbellularia californica, California Bay Laurel
California bay laurel is one of the backbones of California's mixed-evergreen forests. This tree can handle many different environments, from sun to shade, and from moist to dry. It grows to 60' tall and 30' wide, its deep green, handsome leaves are used to season stews and soups, its wood is highly prized for flooring and fine furniture, and the nuts are a unique taste experience themselves. Use the leaves sparingly, as they are much stronger than the European bay tree.
They are easy to grow; plant in humus soil 1/2" under the soil, keeping evenly moist. They are also easy to cook. The creative cook will be intrigued by their strong, powerful taste. The soft husks have already been removed, and the nuts are ready to roast in their shells. Roast at 350 degrees for 45 minutes, stirring occasionally. Crack the shells with a hammer. Serve and eat the nuts warm out of the oven. For more ideas, see our The Real California Cuisine, or California Foraging.
We are offering ¼# bags for planting or for roasting and eating. Attractively packaged, they make a unique gift.