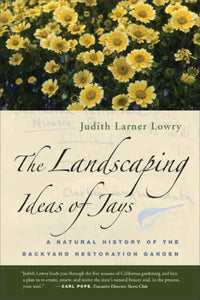 The Landscaping Ideas of Jays
by Judith Larner Lowry
University of California Press, 2007
paperback, hardcover
 Organized by season, this practical and profound guide to backyard restoration gardening celebrates the beauty, the challenges, and the rewards of growing native plants at home. Judith Larner Lowry, winner of the prestigious John Burroughs award, here builds on themes from her best-selling "Gardening with a Wild Heart", which introduced restoration gardening as a new way of thinking about land and people. 
Drawing on her experiences in her own garden, Lowry offers guidance on how to plan a garden with birds, plants, and insects in mind; how to shape it with trees and shrubs, paths and trails, ponds, and other features; and how to cultivate, maintain, and harvest seeds and food from a diverse array of native annuals and perennials. 
Working in collaboration with the scrub jays, quail, ants, and deer who visit her garden, and inspired by other gardeners, including some of the women pioneers of native plant horticulture, Lowry shares the delights of creating site-specific, ever-changing gardens that can help us better understand our place in the natural world.
There are only a handful of linen-covered hard copies left. The paperbacks are also becoming rare.