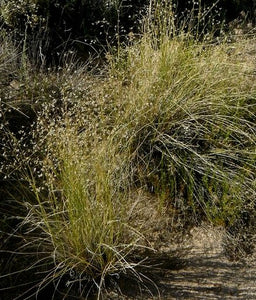 Stipa hymenoides, Indian Ricegrass
Stipa hymenoides
We decided to offer this grass after reading Edith V. A. Murphey's description (see Books): "This bunchgrass is important to Indian life because it will grow without water in pure sand and furnishes food for man and beast. It has been destroyed in many areas by overgrazing. Seed was ground into mush."
Ornamental, drought-tolerant, and graceful, this species is an excellent addition to the wildflower meadow in desert regions and in So Cal. It holds banks and thrives in many regions where other grasses can't. It also makes a good specimen plant. 1.5' tall and 1' wide.
Seeding rate: 10 lb/acre. Cold stratification recommended.