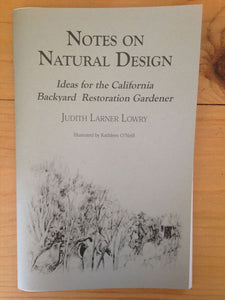 Notes on Natural Design
Notes on Natural Design: The California Backyard Restoration Gardener
by Judith Larner Lowry, illustrations by Kathleen O'Neill
40 pages
A revised and expanded version of the chapbook first written in 1989, this edition was rewritten in 2012. See the results of thirty years of experience in the field of restoration design, which has its own particular set of opportunities and challenges. By working within a plant community, you have a model providing your plant palette, one that already is both harmonious and contains the species that will provide enough contrast and  interest for a lifetime of horticultural exploration.
If you think that limiting your gardening palette to local natives is too restrictive, this book will help you "think again."
Kathleen O'Neill's elegant pencil drawings enrich and illuminate the text.