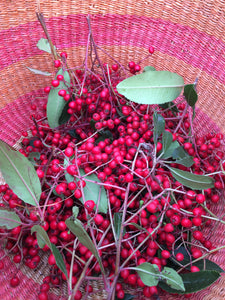 Heteromeles arbutifolia, Toyon
This beautiful evergreen large shrub or small tree can grow like a dense shrub or with a mature form almost like a coast live oak. It can handle full sun or part-shade, is drought-tolerant, and thrives in many kinds of soil. Its showy white flowers are followed by scarlet-red berries in late fall and early winter, which are of importance to wildlife.
Found in chaparral and in oak woodlands, it has a wide range throughout California. Its eye-catching berries are used in wreathmaking, and is the source of the name "Hollywood." LA has proclaimed it to be the official totem native plant of the city.
Toyon berries were blackened and eaten by some California tribes. This parching (toasting) eliminates their acridity.
To propagate, put berries in food processor and cover with water. Process in short bursts until the skin of the berries breaks. Soak the entire mass in water overnight and sow in the morning in flats. Keep evenly moist. Complete germination can take a while, so be patient. (This is known as "erratic germination.")
We collect toyon seed in late fall, so it won't be listed as available until November.