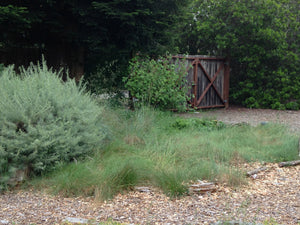 Festuca rubra, Red Fescue
Easy to grow and often used as a sodgrass replacement, this rich green to blue-green bunchgrass can withstand some shade and makes a lovely naturalistic "lumpy lawn" or soft bank cover. Adaptable to many soil types and situations. Bunching habit but also spreads through short rhizomes. Direct-sow or seed in flats for later transplanting - .
Other forms of red fescue, which come from Europe, are often called "creeping red fescue." We carry the California native form only.
For direct-sowing in the ground, use 1/2# per 1,000 sq. ft.