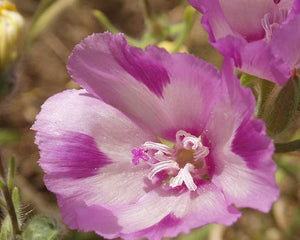 Clarkia williamsonii, Fort Miller Clarkia
This striking annual wildflower has ebullient, eye-catching markings and is easy to grow. The petals are stark white at the base, pale lavender halfway up, with a deep magenta splash of color at the top. The shades of pink or lavender may vary, as well as the size but not the intensity of the characteristic blotch. The sturdy stamen are white, and the plant, clearly meant to draw insects, will draw you as well. It stays under one foot tall and about that wide.
Hikers in Yosemite up to 6,000 feet may have seen Fort Miller Clarkia growing in meadows and in openings in woodlands, blooming from May to August. It has a wide range in California, and grows only in California, where it is usually easy to grow.
If you love clarkias, and enjoy extending wildflower bloom into midsummer, this species is well worth adding to your collection.
The Fort Miller of its name was a military fort south of Yosemite.