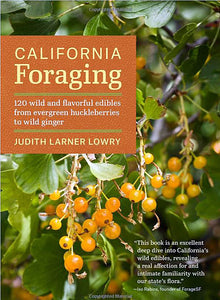 California Foraging
120 Wild and Flavorful Edibles from Evergreen Huckleberries to Wild Ginger
By Judith Larner Lowry
Timber Press, 2014
paperback, 344 pages
The diversity of California's terrain and climate are a forager's dream, with unique offerings from the coast, the mountains, the deserts, and everywhere in between. A passionate wild foods expert, Judith Larner Lowry shows you what to look for and how to gather it in a sustainable way.
California Foraging is a hardworking guide packed with detailed information and clear photography for the safe identification of more than 120 wild plants. It also features a seasonal guide for foraging year-round and collecting tips for sustainable harvesting.
If you'd like the book autographed, please let us know to whom.